Insulation
The new Paxtons timber window and door range has been designed to deliver the Ug values demanded by planning departments, architects and cost-conscious customers.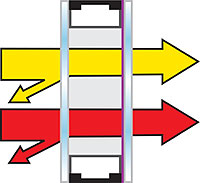 As energy costs rise the importance of a well insulated home has never been greater. All areas of a property are under the microscope - walls, loft, windows and doors.The performance of each is now required information when repairing or restoring, in the case of windows and doors, or as a whole when building, buying or selling a property.
1.0Ug
All Paxtons windows include energy efficient glazing which deliver a U-value rating of 1.0.
All Paxtons glazing units include:
• Warm edge spacer bar
• Soaft coat
• Argon gas filled
• 1.0 centre pane U-value
• 1.4 overall U-value
• Double gasket seal
We are continually improving the performance of our windows and doors and invite customers to telephone us if planning applications or regulations require them to meet a particular U-value or specification.