Entrance doors
The robust construction of our timber entrance door range is perfectly balanced by our three-hinge system. This arrangement allows precise adjustment at the time of installation ensuring smooth trouble-free operation over the lifetime of the door.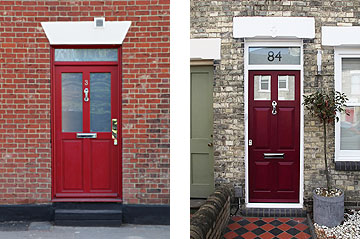 Sourced from sustainable forests our hardwood timber is carefully selected for colour, grain and texture, the three things that will deliver the strength that our designs demand and the natural look and feel that our customers love.
The selected hardwood is then 'engineered' (sections of timber are multi-layered with opposing grains) and laminated, to balance any natural warping and twisting that occurs as moisture in the wood adjusts throughout the seasons.
The resulting sections are much stronger, allowing wider and stronger weight-bearing door frames to carry the load of our hardwood entrance doors.